Profile
Zulauf Partners is a Zurich based law firm, advising and representing private and business clients in all aspects of Swiss business law. In order to provide the best possible services to our clients, we limit ourselves to the following core competencies: media and communications law, intellectual property (copyright law), aviation law and aircraft financing, financing and secured transactions, data protection law,  tax law, sports law, contract law, labour law, administrative law and foundation law.
Each of our partners has extensive experience as an attorney or in-house counsel and ranks among the leading specialists in her or his area of expertise. We publish on our topics on a regular basis, speak on conference panels, assume teaching assignments at universities and contribute to the work of expert groups and commissions.
We are able to offer our services at competitive rates due to a lean cost-basis and an up-to-date infrastructure. We offer flexible service models and billing packages in order to provide a transparent and predictable cost basis for our clients.
For the 7th time in a row business magazine «Bilanz/Handelszeitung» listed Zulauf Partners as one of Switzerland's top ranked law firm in the media law category.
Media Law International has ranked Zulauf Partners among the leading Swiss media law firms.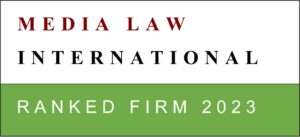 Who's Who Legal: Ronald Kessler named one the world's leading practitioners in the field of Transport/Aviation and listed as an expert in Aviation Finance.